Did you know, 75% of online search engine users never make it past the first page of results? Surprised? Well, consider your own search behaviour.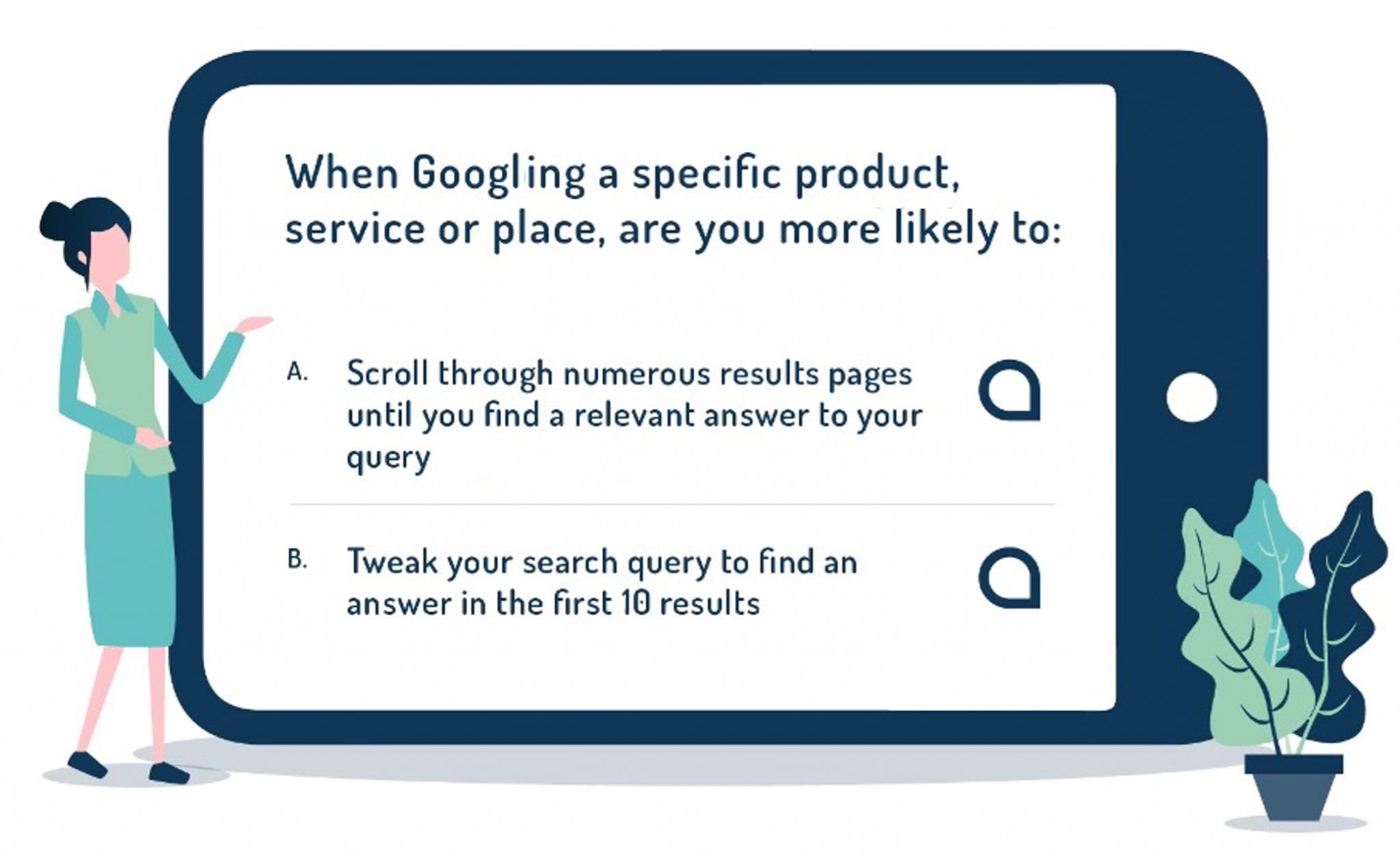 Our guess is more of you can recall a scenario like option b. And that's because we are the same. Even with our intel of how search engines work, and knowing that a result on page three might be just as relevant to our query as one on the first page, we still refuse to scroll.
In many ways, it has become human nature to believe the top results are most likely to contain the information we require. And in most cases, this is true. After all, Google, Bing and the various other search engines use some pretty smart technology to determine such results.
Therefore, as a business, you can be certain that potential customers and clients looking for your products or services are more likely to choose a company that appears on the first page. So to win these potential leads, your website needs to be right up there, too.
Fortunately, there are several ways to increase your position on a search engine results page (SERP). And we're about to put two up against each other to determine where you should focus your efforts.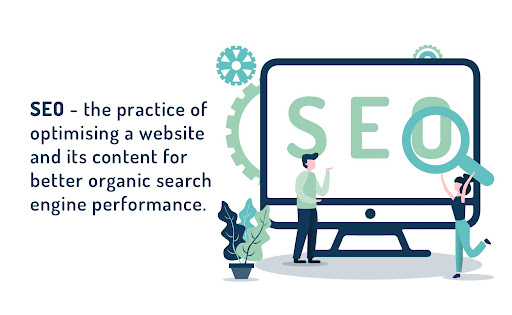 What is SEO?
Search Engine Optimisation (SEO) is the practice of optimising a website and its content for better organic search engine performance. Essentially, it ensures search engines, such as Google and Bing, are able to understand exactly what is included on a webpage so they are more likely to include it in search results for relevant user queries.
Search engines regularly 'crawl' websites in order to build an index and bank of data, which is then matched with a search query. For instance, if a user was to search for a "solitaire diamond engagement ring", all web pages which contain information, products and services relating to this specific item will be presented in the results. Those pages that are best optimised, however, will be shown at the top of the first results page, and are more likely to attract clicks.
Therefore, in order to optimise a webpage, SEO aims to:
Include relevant keywords within page copy – e.g. for the above example, the best-optimised pages will feature "solitaire diamond engagement ring" in titles, body content, product names etc.
Provide useful and engaging information relating to the search query and keywords in the form of content
Ensure page structures are logical and user friendly, using titles, headings, paragraphs and relevant functionalities, which make sense against the search query and user intention – e.g. if a user is searching with the intention to shop, webpages with an e-commerce format will be most relevant, and therefore appear higher in results
Gain links from other websites to indicate the quality of the particular page
Improve technical issues such as website speed, as slow loading websites negatively impact the user experience, and for search engines, the user always comes first. Frustrated users will click back to the SERP, leading the search engine to conclude the website was not relevant to the query and keyword searched for, and thus it will not be shown to the next user who searches for it either.
The importance of SEO for your jewellery business
Just like every industry, the jewellery market is becoming increasingly digitalised, and more so since the pandemic uncovered flaws in its historically in-store-first focus. Although, the importance of the in-person experience when buying things such as engagement rings, and precious pieces of jewellery is undeniable. In many cases, customers prefer this route. However, forced store closures and changing customer behaviours are creating a need for a multi-channel approach. For instance, over the past two years, Google searches for specific jewellery products and services, including "watch repair", "wedding ring" and "gold necklace" have increased.
Whether users are seeking convenient shopping online or simply, researching options before deciding, there is a clear need for jewellery businesses to focus on appearing for their searches. Therefore, SEO activity is essential.
Pay-per-click advertising
But SEO isn't the only way to reach the top of SERPs. Rather, pay-per-click (PPC) offers an alternative method. PPC is an advertising activity that enables you to bid for specific keywords, and when these are included in a user's search query, your webpage will be displayed as an ad, potentially at the top of the results page.
Now, there is no way to guarantee your ad will be displayed in the top positions, however, with the right strategy in place, there is potential to really increase traffic to your website. In fact, it has been found that search ads can increase brand awareness by approximately 80%. In order to do this, some things to consider are:
You are only bidding for the most relevant keywords, as a less focused approach can become costly if users are clicking on your ads with no intention to purchase, visit the store or get in touch etc.
Ad copy contains keywords relating to users' search queries as this is more likely to result in a click-through and ensures the search engine deems the ad relevant and shows it for the right search queries
Different ads are experimented with, including search ads, shopping ads and map ads, as search engines constantly update the way they display results depending on a user's intention
The landing page that is linked to the ad is optimised for conversions by providing the best user experience, relevant information, easy navigation and clear goal completion cues (e.g. purchase or form submission)
The importance of PPC for your jewellery business
Just like SEO, PPC can help you appear more prominently on SERPs, which is why it is an important tactic to consider. As you will see with any quick Google search for an item you sell, competition is fierce on the first page, with many of the big names in the industry taking the top spots. Understandably, these brands already have brand awareness and trust, which is why they might attract more clicks. Therefore, by implementing a strategic PPC campaign, smaller businesses can begin to build awareness, too.
SEO vs PPC: The pros & cons
There are some clear benefits of both PPC and SEO. And there are some downsides too. Therefore, to help you come to a conclusion about which method might work best for your jewellery business, we have set them out in the table below:
SEO
PPC
Pros

Achieves long-term, organic results
Cost-effective strategy
Drives high-quality traffic
Boosts brand credibility

You only pay per click, and costs are often fairly low
Results can often be seen quicker
Ads can be targeted, meaning you may have a better chance of reaching the right audience

Cons

Takes time to achieve results
Search engine algorithms change regularly so requires close monitoring
Adding new content and making improvements need to be constant, ongoing activities, which requires time and patience

Can become costly if the budget is not monitored/or strategy is unfocused
Clicks do not necessarily always result in conversions, but you will still have to pay for them
Competition can be fierce
Which method is the best for your jewellery business?
With all this in mind, we cannot simply say one tactic is better than the other. Both can successfully help you reach the top of search engine results pages. The right technique for your business comes down to your wider business and marketing goals.
For example, a business with a long-term goal of achieving sustainable growth should definitely consider an SEO strategy. A company looking to boost short-term sales might opt for a PPC campaign. Or, both can be used alongside one another, supporting a business's various objectives.
To discuss your specific needs, and which method might help you meet them, get in touch with our expert team of digital marketers today.